Summer has finally arrived! If you're in the Chicago area, you know we skipped spring and jumped right into that sweaty 90 degree weather. Oh my!
Admittedly, I'm not a fan of summer myself. As you can probably tell by most of my product line, it's made for winter. That's because I absolutely love the cooler weather. But, alas, here we are. And, I do have some summer products I'm excited to share with you. One of my favorites is the bath pouf!
For the month of June, I'm offering free shipping to anyone who favorites my Etsy shop! Get your order started now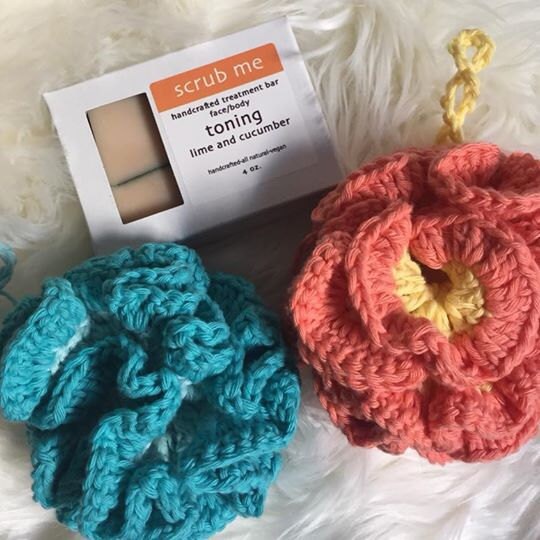 These are an alternitive to your plastic or nylon soap scrubs that you get at your local drug store. They can be reused over and over again, simply by tossing them into your washing machine and tumble drying on low. I've had mine for about 8 months now and it's a fresh and eco-friendly way to clean up after a long day in the summer sun!
The idea originally came to me after my final attempt at purchasing a cheap pouf from Target after my last one started to stink. (Ew) As recent reports show, the Great Pacifc Garbage Patch is three times the size of France. WOW.  Consider the different areas you use plastics, from shower accessories to drinking straws. Replacing these with sustainable options may seem small, but it certainly makes a difference. 
I reccomend hanging on a hook after each use to dry before your next shower. For best results, wash every two weeks with light colors. 
I make shower poufs in all colors and can even double up on a few of your favorites. So place your order today. 
.