Editor's Note: I am so excited to be featuring Tubby's Taste here on the blog. I've known Danielle for awhile and follow her on Instagram to view all of her delicious vegan creations. It's such a unique product! She's an awesome gal who's passionate about what she does, I'm glad to have here here to share her story today on the blog.
I highly recommend trying one of her vegan cookie boxes, delivered right to your door! .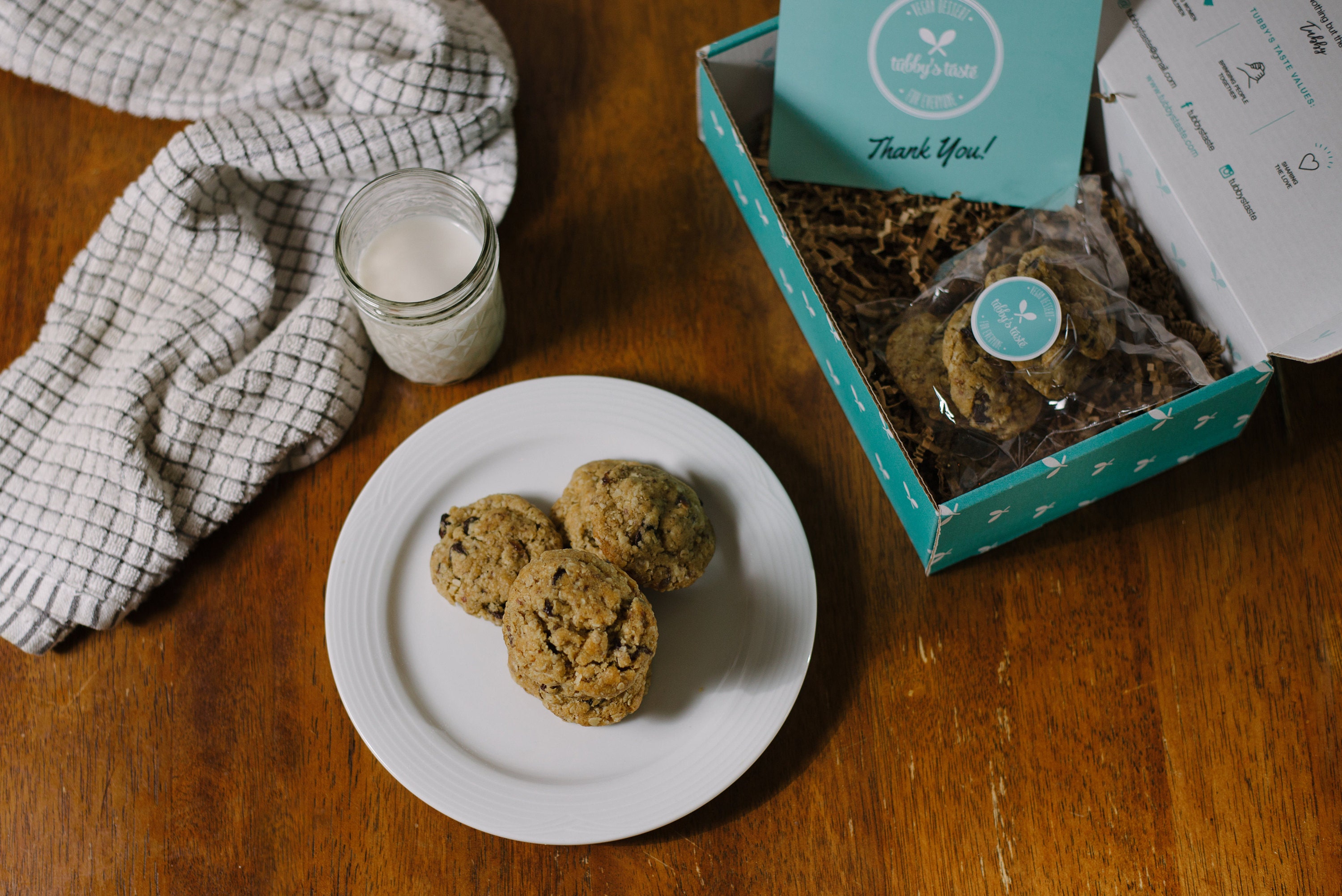 Tubby's Taste began in 2014 as a hobby that quickly turned into a passion and a business.
A naturally gifted baker and cook, it's safe to say that baking is in my blood. I come from a long line of Jamaican cake ladies on one side and a host of African-American foodies on the other. I grew up being recruited to sift flour and line cake pans and all I really wanted to do in those moments was watch T.V! Somehow the baking skills seeped through despite my objections. Since then, my attitude towards baking has totally shifted. My skills in the kitchen and enthusiasm have informed the way that I create with the overall goal of bringing people together. 
I'm not vegan. I'd like to say that I'm on a journey. I very well could be someday, but I'm not right now.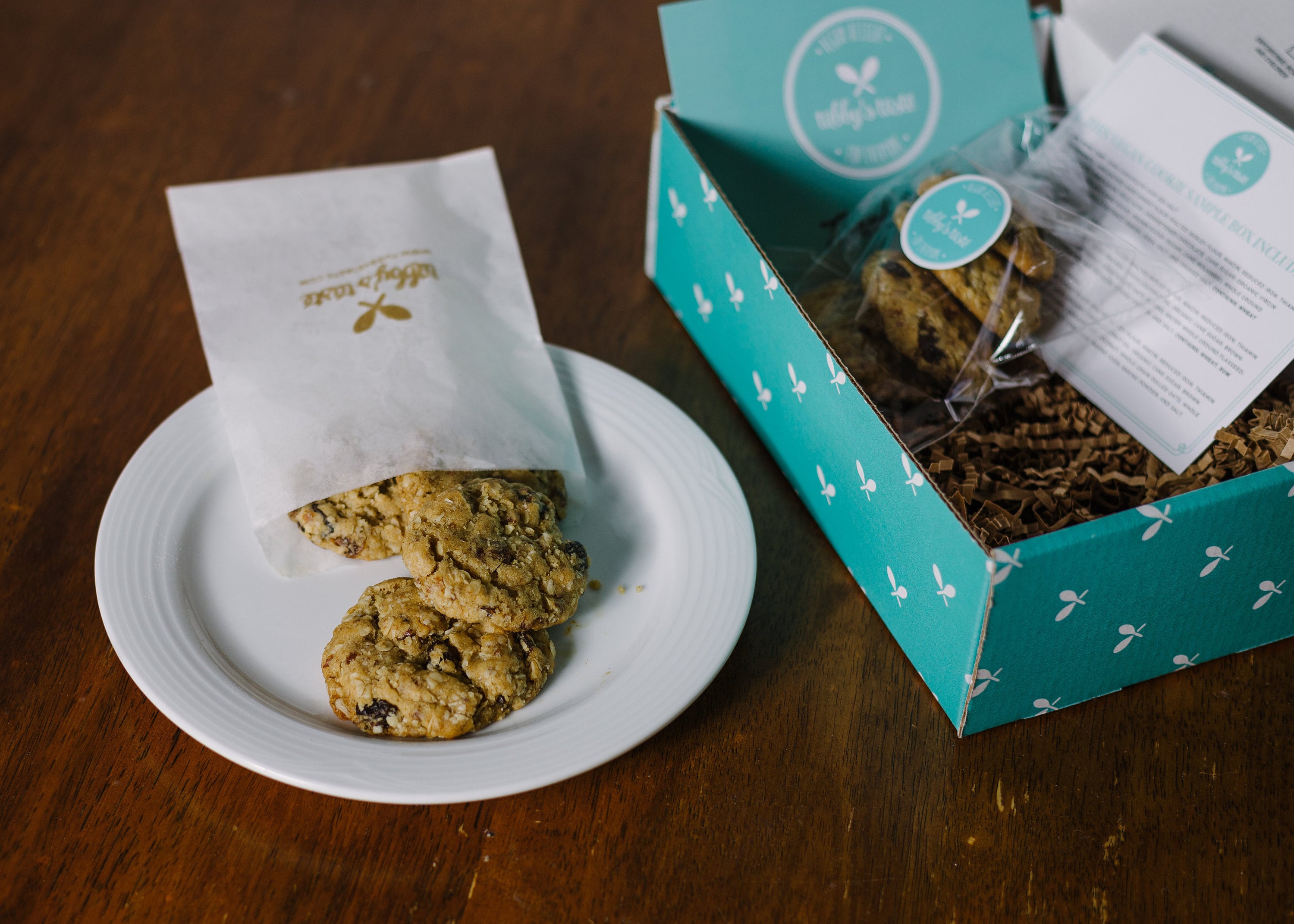 Bringing People Together
Tubby's Taste is created for vegans and non-vegans alike.  
To dig deeper, I think I've always liked being thoughtful and remembering things about others that would come in handy later on. I like for people to feel like they are seen or heard even when they may not think they are. It's a talent of mine that I don't take lightly. 
In a business sense, this means that I truly do care about connecting with my customers. In my cookie boxes (available for subscription on ) I have an engraving that addresses the customer in a familiar tone. I want to make them feel like we know each other and that I'm just like your friend who is baking these cookies so that you can enjoy and spread a little bit of love into the world. I started making my baked good and treats vegan because of my friend, now roommate Anne. She was vegan at the time and urged me to make something she could have. I resisted at first but I wanted her to feel included and so I got to work. 
With Tubby's Taste, I want to bridge the gap between friends, loved ones, co-workers who have these different dietary needs. I also want my treats to taste fantastic to anyone who tries them, not because it's the only option, that's something that brings me so much joy! The majority of my customers are people who aren't actually vegan. They might have loved ones who are, would describe themselves as foodies, or just like what we stand for.
Empowering Women & Children
We're using organic ingredients, thoughtful about our customers, we listen to feedback, and we value empowering women and children. 
Regarding female entrepreneurship, I've recognized that outside of a select few awesome men, everyone who has stepped up to help me with everything from packaging design, to photography, to marketing help, to business coaching, to purchasing from me, has been overwhelmingly female. I think we go out of our way to share resources, advice, come together, and help one another even if there isn't a clear "how can this help me" result. When I was coming up with our values it was pretty clear that empowering women and children would be one of them.  So in addition to speaking engagements, and donating when we can, it's important to us to continue to be a part of groups that share the same values. It's true to the brand and it's true to who I am. 
Be sure to follow Tubby's Taste on , , and YouTube.