Happy (belated) Mother's Day to all the special mom's in our lives! We learn so much from them! Without my mom, it's likely I wouldn't know the important things like, how to put my hair in a ponytail, why you really shouldn't wash your whites with the rest of your clothes and knowing if the leftovers are really too spoiled to eat.
I really wanted to spotlight my Nana today as she's the one that taught me how to crochet. She's insanely talented and speedy with a crochet hook, I could sit and watch her crochet all day. She taught me one day after I'd started to become more interested in playing with yarn. She's an excellent teacher, she'd guide me step by step, and like all good fiber arts teachers, she'd make me rip out my rows and start all over to practice my teaching.
  (If you've ever attended one of my , you know that my teaching style comes from her as well)
It's really because of my Nana that I started crocheting and now have what we all know as Sundae Crochet Co. Even still, If I come across a tricky stitch, she's always there to help me figure it out. She's the master after all.
I talked to her before Mother's Day to hear a little about her crochet journey. Here's what she has to say.
On how she got started:
"I learned to crochet about 53 years ago. We had a 10 cent store and I saw some crocheting books. My mother-in-law knew how to crochet but couldn't show me, she was having trouble with her sight. I got a book and learned how to crochet. It was kind of hit and miss."
On her first crochet project:
"The first project I made was, oh jeepers… oh! A granny square blanket for my mother-in-law. She was ill and that was my first project. I had a neighbor who learned how to crochet and i taught her through this first project."
"Then, when I had your mom, I made mittens and scarves and hats for her and the boys. And then, at one time, girls vests were very popular and I made one for your mother. Then my sister-in -law wanted some for her girls, so I made my nieces some vests."
"When the kids were in bed, I would learn how to crochet at night. Whenever they lost a mitten, I'd just make them a new one! We certainly saved money on mittens that year."
On her current projects: 
"I'm still working on baby blankets, and the reverend from our church has asked me if I could make prayer shawls, so I've been working on those too. I crochet for hospice and I love doing that. I crochet baby blankets for the VA hospital and I enjoy doing that as well. So I'd say the baby blankets are my favorite. With the prayer shawls, I say a prayer while im stitching and hope whoever gets it recovers from their illness."
On teaching me how to crochet:
"That was an easy one kiddo, you took to it. You caught on really quickly and ran with it."
(Thanks Nana, I'm flattered,but I think she's being too nice here, learning how to crochet was a challenge, particularly the slipknot for some reason. It took a lot of practice to start making anything I could be proud of)
On her biggest crochet challenge: 
"In the beginning every stitch was really challenging for me. I think the hardest part for me to learn was reading the patterns. That was very hard for me to learn, you know, do it yourself kind of thing. But way back then, you didn't have computers, so it's a lot easier now. I just did it and tear it apart until I figured it out. I tried to make Papa (my grandpa) a sweater once and that was a joke, it was so lopsided! Needless to say he tried it on and never wore it again."
"In the beginning I just stuck to the easy stuff, if it didn't look right or didnt measure right, id pull it out and start all over again."
On her dream crochet project:
"I'd love to make a fancy doily someday. It's tricky and its very thin yarn."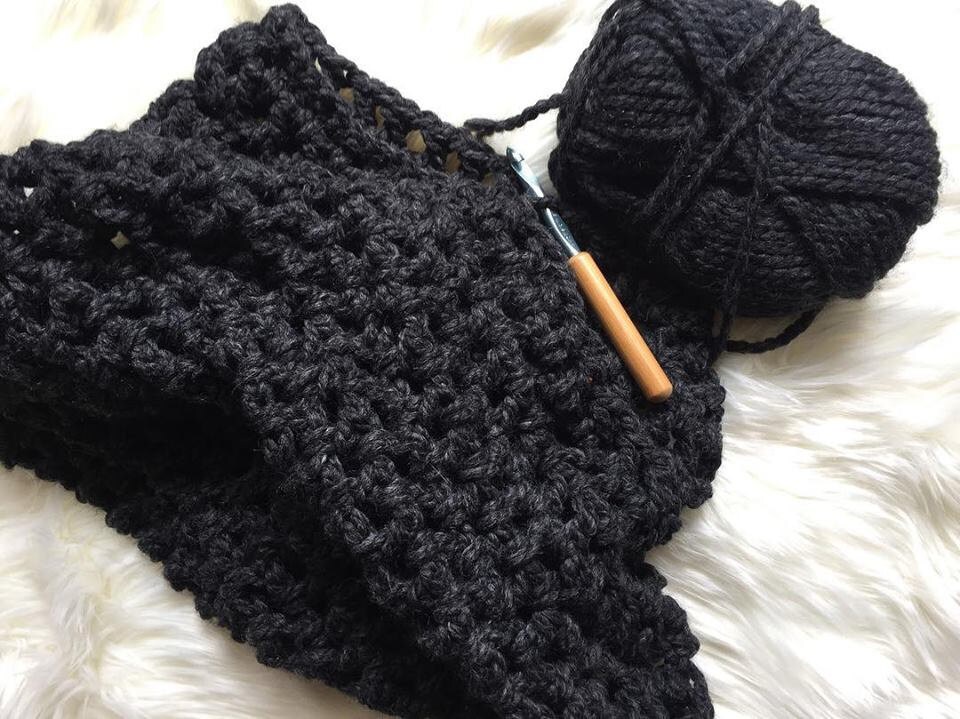 Learn Something New Today
Moms, grandmas and even aunts have so much to teach us. Take some time today to consider what you can learn from them. Like my Nana said, she didn't have computers when she was learning how to crochet. While most of us jump right to a YouTube tutorial, there's something really special about learning from another person, especially a relative, who can sit an instruct us on how to do the best work.
I'm really glad I asked my Nana to teach me how to crochet a few years ago. I'm glad I get to carry on what she's learned over many years, including her ever-so-patient teaching style.